About the Trust
A Trust which is the brainchild of a philanthropist, Shri A.Srinivasan.
A Trust born out of an immense passion for contributing to Society.
A Trust dedicated to the service of education.
A Trust born out of ambitious zeal to provide quality technical education.
A Trust acting as the cornerstone of affordable quality education.
Founded in the year 1994, by the trust has been in the forefront of providing high quality education in the region of Perambalur (an upcoming & yet-to-be-developed region of TamilNadu). Spurred by overwhelming enthusiasm and ambitious zeal, Shri A.Srinivasan has been the harbinger of literacy development by founding various educational institutions in and around the region. Since 1994 there is no looking back. Today the trust boasts of managing various institutions both technical & non-technical paving way for an educated and literate society.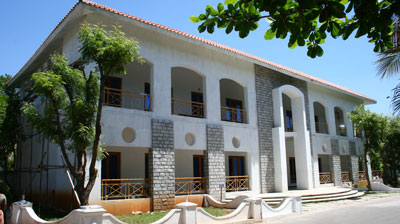 Group of Institutions
Dhanalakshmi Srinivasan Medical College & Hospital
Dhanalakshmi Srinivasan Engineering College (Accredited by NBA-AICTE, NewDelhi)
Srinivasan Engineering College
Dhanalakshmi Srinivasan Institute of Management
Dhanalakshmi Srinivasan Institute of Technology
Dhanalakshmi Srinivasan College of Engineering and Technology, Chennai
Dhanalakshmi Srinivasan College of Engineering and Technology, Coimbatore
Dhanalakshmi Srinivasan Polytechnic College (Accredited by NBA-AICTE, NewDelhi)
Srinivasan Polytechnic College
Dhanalakshmi Srinivasan College of Arts and Science for Women (Nationally Accredited by NAAC at 'A' level)
Srinivasan College of Arts and Science(Co-Education)
Dhanalakshmi Srinivasan College of Nursing
Srinivasan College of Nursing
Dhanalakshmi Srinivasan College of Education(Co-Education) (Nationally Accredited by NAAC)
Dhanalakshmi Srinivasan College of Education for Women
Dhanalakshmi Srinivasan Teacher Training Institute
Dhanalakshmi Srinivasan Matric. Higher Secondary School
Dhanalakshmi Srinivasan Higher Secondary School (Tamil Medium)
Dhanalakshmi Srinivasan Matric. Higher Secondary School (Trichy)